McTear's auctioneers are world renowned for their expertise in the auction world and came to us to realise a vision of their 'What's it Worth?' valuation service in the form of an easy to use app.

With simplicity in mind, we coded, developed and published this app which can be used on iPhone or iPad.
McTear's 'What's it Worth?' available to download from the app Store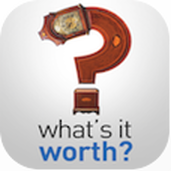 as developers of the "What's it Worth?" app we are available to answer any questions/feedback or app support queries.
If your question is related to a valuation we are happy to forward your question to McTear's auctioneers themselves.
available to download to your iPhone, iPad, iPad mini, iPod touch mobile iOS devices.
Both McTears and apjam hope you enjoy the app. Thank you.
Support Email: enquiries@apjam.co.uk
McTears Website: www.mctears.co.uk
---
apjam helped McTear's with this iPhone application for their company. apps in business is fast becoming the best way to interact with your clients and prospects.

Click the app Store link above to take you to the latest version and download today. available for iPhone 4, 4S, 5 & 5S, 6 & 6plus and can also be downloaded and used from an iPad. available for operating systems 7.0+
Comment from our client on LinkedIn

---
User reviews from iTunes about
"What's it Worth?"


---
---