Values Into Action Scotland ltd are a local charity who promote the rights & equality of people with learning difficulties & individuals on the autistic spectrum. VIAS contacted us to create an iOS app to allow people to create a video CV when applying for work.

From designs provided, (which include "Verne", VIAS's corporately coloured helpful character) we coded, developed and published this app which can be used on iPhone or iPad.

VIAS's 'My Video CV' - Version 2.0 Available to download NOW.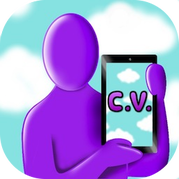 *
*Updated - New look, easier to use and and now you can use front or back cameras for each video segment.

On completion of your video cv, in addition to it being saved to your device's photo library, you can now directly upload to your YouTube account.

Please tell us what you think with an iTunes App Store Review.
__________________________________________________________________________________________________
Are you job seeking?
Do you want to impress employers with a dynamic video CV?
Download this free app today. You can build your CV in a matter of minutes!
Video CVs are widely used by people in sales, PR and digital media. Now you can do the same!
As well as the video CV builder, the app gives access to lots of information about Values Into Action Scotland, what we do and how to connect to us. Download now. You won't be disappointed!
Both Values Into Action Scotland and apjam hope you enjoy the app. Thank you.
Support Email:
enquiries@apjam.co.uk
VIAS Website:
www.viascotland.org.uk
---

Click the App Store link above to take you to the latest version and download today. Available for iPhone 4S, 5 & 5S, 6 & 6plus and can also be downloaded and used from an iPad. Available for operating systems 8.0+

User reviews from iTunes about
"My Video CV"


---